Savile Row
Mayer Fabrics is pleased to introduce Savile Row: a collection of bespoke menswear inspired Crypton performance fabrics. Patterns Kensington, Mayfair, Soho and Tattersall feature handsome new looks in plaids, stripes and checks while Abbey and London provide sophisticated plain coordinates. Fretwork, a symmetrical ornamental design, is a nod to Savile Row's historic architecture. This high-performance collection of Crypton fabrics offers a comprehensive range of color choices for application in all commercial markets. Continuing our commitment to sustainable initiatives, five of the fabrics are woven from heavy-metal free and post-consumer recycled polyester, earning them Crypton Green status and FACTS Gold certification. As always, Style has Value at Mayer Fabrics as Savile Row offers excellent quality and performance value at excellent prices.
Abbey is a luxurious piece-dyed, textured plain with a supple hand that serves as the complement to all Savile Row Collection patterns. A versatile fabric in a broad range of colors from rich neutrals like Stone and Pumice to dramatic jewel tones such as Midnight and Plum, Abbey provides solutions for all markets. Abbey is named for Abbey Road of the Savile Row area and the Beatles song accordingly.
Fretwork features an interlaced architectural design and references Savile Row's historic buildings. The collection's statement piece, Fretwork is an intricately constructed fabric that layers its design motifs over subtle striation. Colors range from soft and earthy in hue with combinations such as Cafe and Oxford to translucent shades of blue and green as seen in colors Ink and Sea.
Kensington features an allover chenille check design and is reminiscent of tweed with its multicolored vintage menswear look. Available in seven versatile colors with an emphasis on neutrals, Kensington is a great value priced hospitality seating fabric. Kensington is a district within the Royal Borough of Kensington and Chelsea in West London.
London features a versatile organic design in a beautifully engineered piece-dyed quality. A wide spectrum of colors provides neutrals, pastels, earth and jewel tones along with some fresh new Mayer options. London is a great corporate chair fabric in addition being perfect for hospitality, healthcare and education seating.
Mayfair is a large-scale stripe with extreme versatility. Textural elements create a dimensional ground in this fabric making it the perfect choice for healthcare room vignettes and hospitality banquette seating. Colorways are nicely integrated and range from sophisticated neutrals to bold combinations. Mayfair is named for the upscale area of central London in which Savile Row is located.
Soho features a layered block design that results in a dimensional, multi-colored geometric grid. Colors range from medium to bold in hue with great options for both healthcare and hospitality applications and include Apricot, Spice, Mulberry, Cobalt and Meadow. Soho, a short walk from Savile Row, is considered by some to be the "hippest" place to buy bespoke today.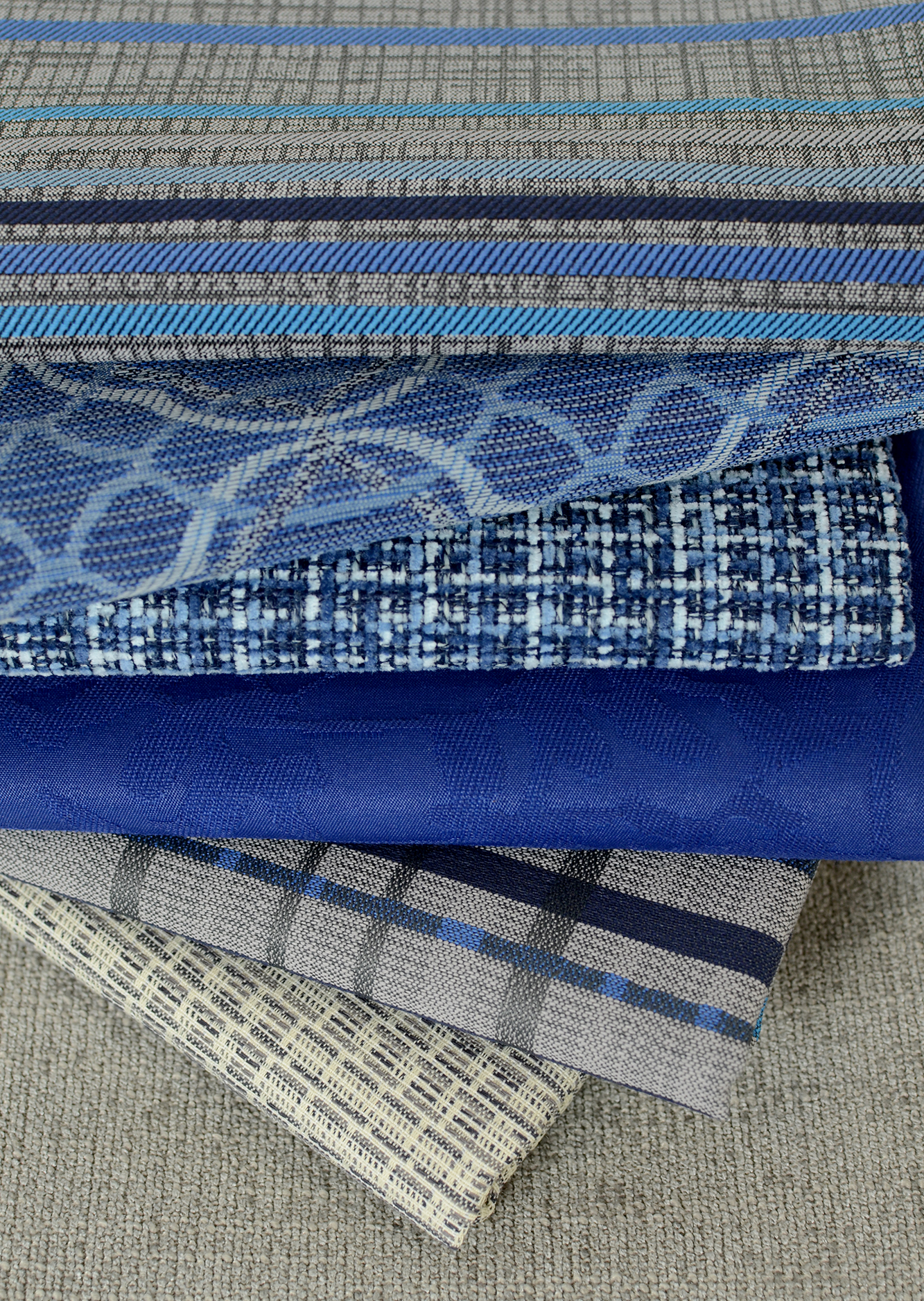 Tattersall is our updated interpretation of the classic Tattersall style plaid. As with the classic, our pattern features bolder colored stripes on a lighter ground. Colors relate to the colors of pattern Soho with the addition of fashion trending color combination Blush. Given its high-performance attributes and great look, Tattersall is the perfect plaid option for commercial interiors.